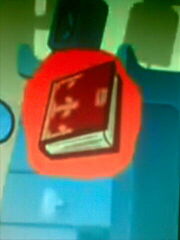 The Woo Foo Book of Forbidden Evil is a book filed with spells, dragons, and all other sorts of evil. In the show, people say it like: 'The Woo Foo Book of Forbidden Eeeeevil!' to exaggerate the last word. It appears in episodes such as: Dictator of the Year and Slumber Party of Dooom.
Yin and Yang's teacher, Master Yo had the book in the Woo Foo Armory and it had to be safe from evil villains; however, Brother Herman steals the Woo Foo Book of Forbidden Evil in Dictator of the Year, but Yin and Yang get it back (with the help of Carl). In the Slumber Party of Dooom, Yang puts an evil zombie spell in the fruit punch bowl. When Yin's friends Katie, Paige, and Lina drink the punch, they become zombies so Yin and Yang undid the spell out of her friends and brought it back to the Woo Foo Book of Forbidden Evil. The reason why Yang did that was because Yin kicked him out of the living room so Yang wouldn't destroy the "fun" party.
Now the book is back safe in the armory, where it belongs.
Ad blocker interference detected!
Wikia is a free-to-use site that makes money from advertising. We have a modified experience for viewers using ad blockers

Wikia is not accessible if you've made further modifications. Remove the custom ad blocker rule(s) and the page will load as expected.