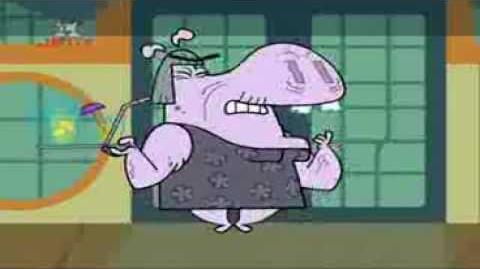 Synopsis
When Yuck returns to town and swears he's a changed rabbit, Yin and Yang are initially suspicious. However, Yuck really does seem to change. Will the siblings give Yuck the benefit of a doubt, or will they bring back one of their enemies?
Plot
Trivia
Yuck takes on a much neater appearance in this episode. However he reverts back to his original appearance as he becomes evil once more.
Running gags:As Yang punches Yuck with one of his Paws of Pain (Paws of Power),Yuck's long ears are fuzzy.As Yin kicks Yuck's back,the bottom of Yuck's shirt is ripped.Before Yang punches Yuck without one of his Paws of Pain (Paws of Power),Yuck's shirt is ripped again.And his teeth are not sharp but when he has enough his eyes have wrinkles and his teeth are very sharp.
This is the first and the only appearance of Yuck's good side.
Ad blocker interference detected!
Wikia is a free-to-use site that makes money from advertising. We have a modified experience for viewers using ad blockers

Wikia is not accessible if you've made further modifications. Remove the custom ad blocker rule(s) and the page will load as expected.