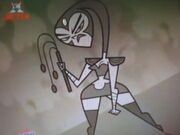 Snake Lady was the second Night Master. Little was known about her other than the fact that she made a minor cameo appearance in the episode, "The Pecking Order." There is possibility that she defeat Eradicus and became the new Night master or she done what done Ultimoose when he gone to the Night Master's Lair.
Ad blocker interference detected!
Wikia is a free-to-use site that makes money from advertising. We have a modified experience for viewers using ad blockers

Wikia is not accessible if you've made further modifications. Remove the custom ad blocker rule(s) and the page will load as expected.