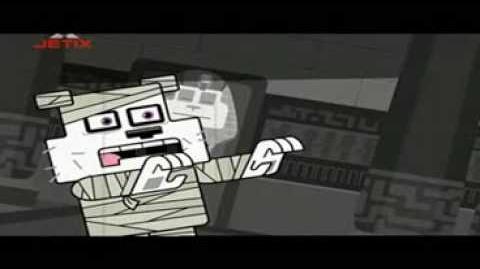 Synopsis
After insulting Master Yo's old videos (again), Yin and Yang are pulled into a world of old, black and white scary-ness! Will they come to appreciate the classics, or will they be stuck in a world of mediocre forever?
Plot
Master Yo wants to watch a black and white horror flick but Yin and Yang don't because the movies aren't scary instead they want to see Camp Bloodslaughter 6. Yo decides to prove black and white movies are scary by using a remote to transport them into some of his favorite movies. He first brings them to a science creates a monster it can't control movie but they are not scared. He transports them to King Pyong a movie where all giant monster movies came from but they aren't scared. Yo transports hem to different movies but none of them are scary to Yin and Yang. So Yo brings them to the original Camp Bloodslaughter which scares them and they admit black and white movies can be scary. Satisfied Yo tries to transport them out of the movie but the remotes batteries die. They run until they find a store and they get batteries and get out of the movie. Yin and Yang are excited to see Camp Bloodslaughter 6 but since its PG-13 Yo wont allow them to see it.
The episode ends with Yo transporting Yin and Yang back to King Pyong while he sees Camp Bloodslaughter 6
Trivia
This episode doesn't feature a regular villain. Instead, the tension comes from the monsters in Yo's old films.
Camp Bloodslaughter is parody to 2 Films:Sleppaway Camp and Friday the 13th.