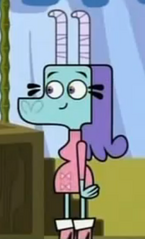 An antelope-like adult woman. Her name is revealed in "This Yang Isn't Brought to You By...", where she joins M.A.T.J.Y., standing for Mothers Against That Jerk Yang until she renames after herself. Also revealed is her son, Arsten, and her love of coupons.
Ad blocker interference detected!
Wikia is a free-to-use site that makes money from advertising. We have a modified experience for viewers using ad blockers

Wikia is not accessible if you've made further modifications. Remove the custom ad blocker rule(s) and the page will load as expected.