Mister PuddinPaws, also known as just PuddinPaws by Yin, Yang and Yuck, is a small, ginger cat with brown stripes on his face and bright green eyes. He belongs to Mayor Muffin. Unlike most of the characters he doesn't talk but communicates with meows and hisses like a normal cat.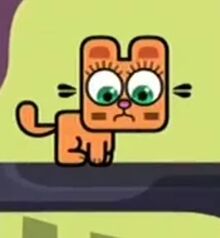 Personality
He's usually grumpy and unhappy, clearly showing a dislike for Muffin and Yang but is also sometimes happy and friendly like when he saw Yin in The High She As. He attacked Yin and Yang in Upstanding Yuck, possibly because he felt threatened.
Appearances
The High She As
Upstanding Yuck
Species
Cat
Gender
Male
Appearance
Small, adorable ginger cat with whiskers, bright green eyes with lots of eyelashes around them and little, smudgey brown stripes on each side of his face. He has a tiny, pink nose, slightly curved ears and a pretty long tail.
Occupation
Mayor Muffin's cat
Acquaintances
Yuck
Mayor Muffin
Yin
Yang
Ad blocker interference detected!
Wikia is a free-to-use site that makes money from advertising. We have a modified experience for viewers using ad blockers

Wikia is not accessible if you've made further modifications. Remove the custom ad blocker rule(s) and the page will load as expected.