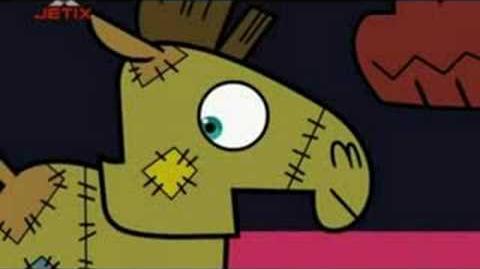 Synopsis
Carl is in the market for henchmen, and goes to the Night Master's Evil Convention looking for some. Meanwhile, Yin and Yang have also infiltrated the con, hoping to find about the Night Master's evil plan. Can the siblings avoid being found out long enough to learn something useful?
Plot
Carl thinks he is not a good villian because he has no henchmen. Then an add on t.v comes up about evil con and offers to help people find henchmen and have as many as Carls evil brother Herman. Yang sees the same add and yo won't let them go. Master yo gives yin and yang the idea to dress up as a villian to go to evil con. Yin and yang go there as an evil donkey named death donkey and here there name and Waz up and they kick them and call it annoying. Then the night master revels his plan to destroy yin, yang and yo. Then he tells everyone join or die so every one steps to the right and join him except Carl and deathdonkey. Carl makes "deathdonkey" his henchman and they try to escape when yin and yang trip and their disguise to come off. Then cornered they night earses their memories and back at the dojo yin shows master yo her notes that she took and the convention
Trivia
This episode features the Night Master as the main antagonist
This episode also features Carl as a quasi-ally
Ad blocker interference detected!
Wikia is a free-to-use site that makes money from advertising. We have a modified experience for viewers using ad blockers

Wikia is not accessible if you've made further modifications. Remove the custom ad blocker rule(s) and the page will load as expected.