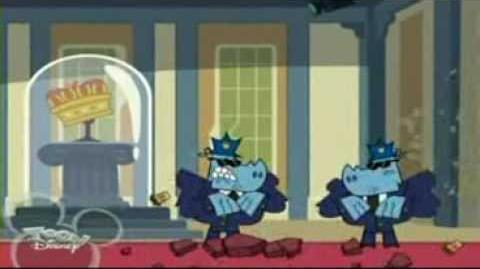 Synopsis
When Yuck switches Yin and Yang's auras, they not only have different powers; they have different personalities as well! Will they figure out a way to cope with their new mindsets, or will Yuck become the newest civic authority?
Plot
Yin and Yang are hired to protect a crown that will make anyone who wears it the town's ruler. Yuck, of course, comes and trys to steal it, Yin and Yang working together defeat him and kick him over the horizon. When Yuck lands in the woods his sees like Yin and Yang kinda looks like him on his shoulder. The pink one says that because he was made from Yin and Yang they are boy and girl. The pink gives the idea of Aura Swap. Yuck then uses it on Yin and Yang now Yang is like Yin and Yin is like Yang. Now Yang tries to figure out how this happened and Yin just plays video games. Yang figures out what happened and they confront Yuck. Yuck starts to win until Yin and Yang use woofoo aura and then their auras go where they should be they defeat Yuck and kicks him over the horizen and he yells "I blame the girl side of me" and the crown lands on muffin and everything is back to normal.
Trivia
This episode features Yuck as the main antagonist
This is the final appearence of Yuck.
Ad blocker interference detected!
Wikia is a free-to-use site that makes money from advertising. We have a modified experience for viewers using ad blockers

Wikia is not accessible if you've made further modifications. Remove the custom ad blocker rule(s) and the page will load as expected.