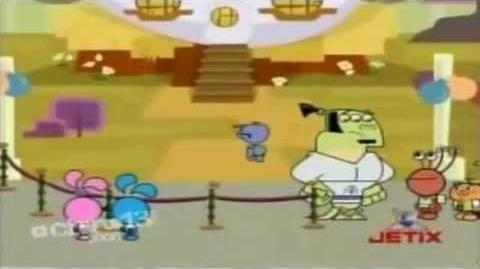 Synopsis
Coop's Mother is throwing Coop a "Welcome Back and Thanks For Saving Everyone From Evil By Banishing The Night Master All By Yourself" party, and Yin and Yang are the only ones in town not invited. Meanwhile, three villains form an unlikely alliance in order to steal the key to the Night Master's Lair. Will Yin and Yang have what it takes to stop them?
Plot
Antagonist
This episode features G.P., Charles, and Flaviour as the main antagonists.
Woo Foo Weapons Introduced
None
Woo Foo Weapons Introduced
None
Magic Items introduced
Key to the Night Master's Lair
Woo Foo Techniques Introduced
None
Trivia
This is the first episode to feature Fr-ped, and explains his creation and motives.
Ad blocker interference detected!
Wikia is a free-to-use site that makes money from advertising. We have a modified experience for viewers using ad blockers

Wikia is not accessible if you've made further modifications. Remove the custom ad blocker rule(s) and the page will load as expected.