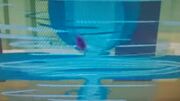 Side of Woo Foo: Martial Arts
Level: Level 0, Supplementary, Offensive, Defensive
The user rapidly spins, creating a powerful tornado. Yang has also shown that he can also throw the tornado or create it with his Bamboo Sword to add a fire element and make it a Fire-Nado. It can also be used to deflect incoming attacks.