It is a holiday in which family members are nice to each other and give gifts. In the episode with the same name, Master Yo gives both Yin and Yang a gift even though they are not really family expecting something in return, which he didn't get...until the end of the episode!
Edna, Carl the Evil Cockroach Wizard and Brother Herman celebrate this day as well, however, Edna favors Herman as always by giving him two gifts and giving Carl nothing.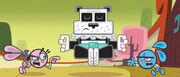 Trivia
The one reason of why Master Yo gave Yin and Yang a gift is, obviously, because he has grown so close to his students that he feels like they are really related, ironically, they are truly related, as revealed in Yin, Yang...Who?.
Ad blocker interference detected!
Wikia is a free-to-use site that makes money from advertising. We have a modified experience for viewers using ad blockers

Wikia is not accessible if you've made further modifications. Remove the custom ad blocker rule(s) and the page will load as expected.