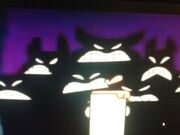 There were lot of black shadow dog creatures in 
Party Favors
.
They attacked on the Coop when the Night master gave him the key of his lair.
They attacked on the Coop when he opened the door tothe Night master's lair.
Trivia
They like chickens
It is possible that they are similar species like Dank and Dire.
Ad blocker interference detected!
Wikia is a free-to-use site that makes money from advertising. We have a modified experience for viewers using ad blockers

Wikia is not accessible if you've made further modifications. Remove the custom ad blocker rule(s) and the page will load as expected.