Appearance
: Coop's mom wears a pinkish - purple shirt, skirt and high heels.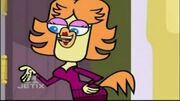 Description: Coop's Mother is a publicist and very pretty. Most of the kids who attended her 'Thanks for saving the world all by Yourself by Banishing the Night Master' party, only went there to see her. She was one of the 'chicks' who loved Master Yo's old band 'Pandangerous'.
In the episode, "The Secret Life of Possum Panda",it is shown that she lives a double life as a villainess named, "Hot Chick".
Ad blocker interference detected!
Wikia is a free-to-use site that makes money from advertising. We have a modified experience for viewers using ad blockers

Wikia is not accessible if you've made further modifications. Remove the custom ad blocker rule(s) and the page will load as expected.