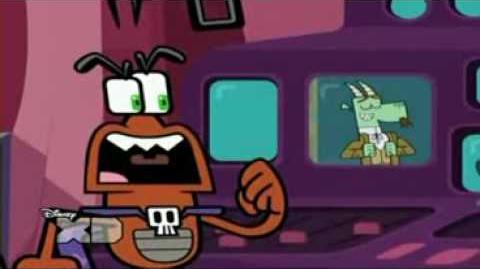 Synopsis
President Muffin, in a re-election campaign stunt, has promised Yin and Yang that if they help him through the deadly Woo Foo Temple of Deadly Whatever to achieve the Chalice of So-Whatitude which has the power to grant random wishes, they'll get fame and fortune! But what happens when President Muffin accepts all the glory for their accomplishments, or Carl enters the fray in an attempt to get the Chalice for his mother! Can Yin and Yang keep their temper locked away from President Muffin and beat Carl at the same time?
Plot
Woo Foo Weapons Introduced
The Chalice of So-Whatitude
Trivia
It's learned in this episode that apparently, Carl does want to make the world a better place.
Yang appears naked for the fifth time in this episode.
It's learned in this episode that President Muffins actually DOES have an army to provide protection for the city in which Yin and Yang live in, but President Muffins normally has the army put in a State of Emergency for taking care of his yard.
This episode has the shortest flashback, lasting for forty-two seconds; the longest one was Deja Foo with fourteen minutes and the second longest was 600 Channels of Doom with eight minutes.
Ad blocker interference detected!
Wikia is a free-to-use site that makes money from advertising. We have a modified experience for viewers using ad blockers

Wikia is not accessible if you've made further modifications. Remove the custom ad blocker rule(s) and the page will load as expected.