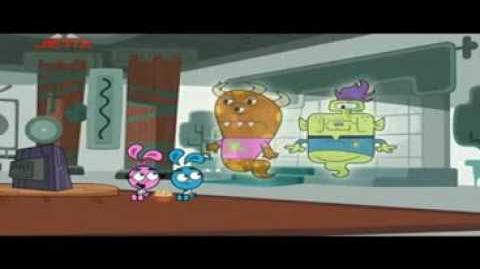 Synopsis
When Yin and Yang accidentally set free the two bad habits (Eats2Much and Duzznt Exercise), a superhero from a higher plain named The Lesson is called (or summoned). Upon seeing the state of the world, however, he begins a crusade to get everyone to eat right and exercise. Will Yin and Yang be able to stop the madness (or chaos) and learn the lesson?
Plot
Trivia
This episode features The Lesson as the main antagonist
This episode is the first to feature The Lesson, and explains his purpose and motives
Fastidious make a small cameo in this episode,who is seen as one of the objects thrown at The Lesson.
After The Lesson's musical number, one of the featured vegetables, a carrot, tries to grab the attention of Yin and Yang. Oddly enough, Yang remarks to the carrot that he'd never eat it, given the facts that rabbits enjoy consuming carrots and that both Yin and Yang are rabbits themselves.