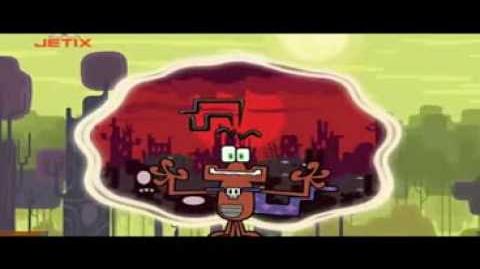 "
A Match Not Made In Heaven
" is the 12th (second part) episode of Yin Yang Yo!
Synopsis
When Carl's mom and Master Yo are matched together through an online dating service, it's up to Yin and Yang to break them apart!
Plot
Carl begs his mother to let him use her jewelry but she tells him no, causing Carl to insult her to which she runs off crying. To keep his mother distracted, Carl finds a dating website and sets her up on a blind date; meanwhile Yin and Yang are having trouble with their Woo Foo and because of Yang's jokes about him Master Yo is too sad to train them, to make up for it they get him a date. Carl uses his mother's brooch of irresistibility to make her and Yo fall madly in love; because of this, he ignores Yin and Yang who are very annoyed that Yo is not training them. Carl uses his mother's earring to merge different animals together; Yin and Yang find him and fight but their fight is interrupted when his mother comes back so he quickly throws them out and hides her earring and his new monster. Overhearing that Yo is going to propose to her Yin and Yang follow them to a restaurant in a disguise as a janitor and just when Yo is about to give her the ring Yang knocks it out of his hand and they take off with it with Yo and Edna running after them. They run into Carl's lair and just when he tries to merge them to together Yin reflects it and it hits Edna and Yo merging them together giving Yang time to knock off the brooch of irresistbililty and Yin to break it releasing Yo and Edna for the spell. As a thank you, Yo takes Yin and Yang out for dinner.The episode ends with Edna (who got Master Yo's back rash) forcing Carl to scratch her back.
Trivia
This episode features Carl as the main antagonist.
Edna stills in love in Yo in later episodes.
In this episode, Yin is unable to use Foo Field (until close to the end).
Woo Foo Powers used
Foo Field - Yin masters this move in the near end.
Power Paws - To destroy the same reason Carl made Edna and Yo in love.