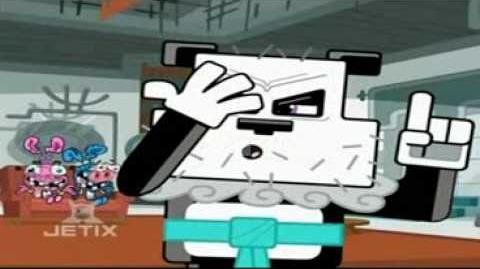 "
A Bad Case of the Buglies
" is the 31th (first part) episode of Yin Yang Yo!
Synopsis
After Yin finally insults Carl successfully, he tries to get back at her and Yang by making them "bugly". Will Yin realize that true beauty is on the inside, or will Carl have his victory over "Bugly Yinnie"?
Plot
Yin and lena are at what looks as a cafe they read peachy teen magazine.Carl comes and tells them that the table is his with his name on it. Then they start calling each other names when yin cames up with the name bugly because hes a bug and ugly. Carl runs home and turns on the t.v and sees an add saying you can turn your enmies ugly. Yang is happy Yin finally was mean to someone and they to the cafe where yin insulted carl and carl dressed as a waitress gives them the ugly potion when they drink they become ugly and carl calls yin bugly because she's a buuny and she's ugly. Yang doesn't care thats he is ugly but yin is torn up by it and will not fight because everyone is laughing at her. Lena talks to her about not caring about how she looks and that beuty is on the inside. Yin gains her confidence back and defeats Carl and is turned back to normal and so is yang. Lena is hugging Yin when Yang gives back her contacts
Main Antagonist
Woo Foo Weapons Introduced
Woo Foo Techniques Introduced
Trivia
Ad blocker interference detected!
Wikia is a free-to-use site that makes money from advertising. We have a modified experience for viewers using ad blockers

Wikia is not accessible if you've made further modifications. Remove the custom ad blocker rule(s) and the page will load as expected.